MOLLY - ALFROSS ACERS SKYROCKET
26.10.2000 - 16.08.2010
Due to a tragic accident Molly, the foundation of the Scotiasky Clan, is now here in spirit only.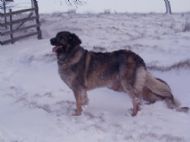 DAM - "ACER"
ALFROSS DESTINYS DREAM
SIRE - " EDDIE " -
MANORGUARD LIMITED EDITION
HER FIRST LITTER WAS WITH "OLIVER" - DRAGONGARDENS OUTSTANDING OLIVER
(IMP.SWEDEN)
DAM - DRAGONGARDENS QUESTION OF LOVE
SIRE - SJD BJORNENS HOUDINI
HER SECOND LITTER WAS WITH "JOKER" - DRAGONGARDENS PRACTICAL JOKE
DAM - DRAGONGARDENS HATE TO BE NICE
SIRE - VATHOS VON LOWENKRAFT
On this page you will see some photos of Molly and her offspring.
MOLLY WITH HER SON, OTIS
THIS PHOTO WAS TAKEN BY OUR DAUGHTER, XHOSA, AND IS STAMPED ONTO THE OFFICIAL C.H.C TOP AWARD WINNING DVD
MOLLY WITH SKY
Please click on the following photos to enlarge
ALFROSS PRIDE - MOLLY'S FAMILY
Note: We do not endorse any adverts nor are we affiliated to any Leonberger breeder unless already on our Links page.
---