Hello & Welcome to Scotiasky - "Sco-sha-sky"
We are Linda & Stephen Johnstone and we live with our son, Josh, Sky & Ginty who are both daughters from our original beautiful Leonberger girl Molly and last but not least Bob, our big fluffy ginger cat, in what must be one of the most beautiful parts of Scotland, Perthshire
"MOLLY" - ALFROSS ACER'S SKYROCKET
26.10.2000 - 16.08.2010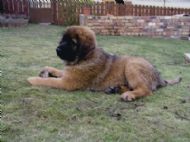 "SKY" - SCOTIASKY MORNING GLORY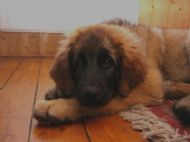 "GINTY" - SCOTIASKY CELTIC DREAM
BOB
When we had to have our beloved Bella, a Lurcher, put to sleep I said that I didn't want another dog as none would be able to replace her. Bella was born here being conceived on the day that we moved into this house in 1985 .... but that's another story. Bella was a loving, friendly dog who was very much part of this family having lived with us for her 14 years. She got on really well with the many children and adults who visited us as well as other dogs and of course our cats. Even after she died I used to think that she was standing in the driveway.Then one day when I was here on my own there was a knock on the door, I opened it and there stood a stranger with another sitting in their van. Even though they were only looking for directions it was then that I realised that Bella had removed that vulnerable feeling of being alone when Stephen wasn't here. It wasn't that she was in any way aggressive, infact the total opposite but she offered you the protection that only your four-legged friend can. When Stephen came home I told him that I was ready to have another dog as part of our family.
Stephen and I had decided that we would like a large breed to join our family and started to do some research . Eventually we came across a photograph of a Leonberger in a dog magazine and both agreed that we would like to see this breed in the flesh. We contacted the Leonberger Club of GB and were told that Mary & Duncan McNiven lived in Scotland. We phoned straight away and were delighted to discover that they only lived about 30 miles away from us. We asked if we could visit and they said that we were welcome anytime. That evening Stephen and I jumped into the car and headed off to meet complete strangers and a breed of dog that we had just read about. We were given a really warm welcome from both Mary and Duncan and of course Sophy their beautiful Leo girl. Unfortunately, Mary and Duncan hadn't really thought about mating Sophy at this time but we have remained good friends with them.
In November 2000 we discovered that Carol Lear of Alfross Leonbergers had a litter of 14 puppies and after a few phone calls it was agreed that we could go down and visit her and the pups. Stephen and I were so excited as we headed down south on our 12 hour round trip to Derbyshire.
We knew immediately that this was definitely a Leonberger family home when, on our arrival, we were met by seven Leonbergers - these included Greatgrandmother, Grandmother, Uncle, Aunt, Half-brother - what an experience to meet so many wonderful large, friendly dogs in the one place.
Molly's mum Acer was brilliant, so relaxed letting us pick up and cuddle her pups... as long as she got cuddles as well. We also met Acer's son, Otto, from her first litter and if ever there was an ambassador for Leos he was your boy. After being at Carol's for about two hours she informed us that she was happy to let us have one of the puppies. Stephen and I did the return journey home on cloud nine. The next few weeks was like waiting on a kettle to boil. Poor Carol, the number of times we phoned her with questions about Leos or asking her how Molly was doing. Eventually in December 2000 it was time to make another trip down south to collect our beautiful pup and bring her home to live as part of our family. We can't thank Carol enough for allowing us to have Molly, for being a such a supportive breeder and now for being one of our closest friends.
Molly was the foundation of Scotiasky and from her first litter in December 2003 we kept Sky and from her second litter in May 2005 we kept another girl, Ginty.
When and if you get your Leonberger we hope that you will be as lucky as we were and not only have a lovely Leo join your family but meet many new and wonderful friends as we have.
STEPHEN KEEPING AN EYE ON THE GIRLS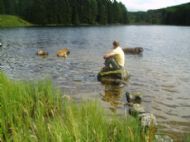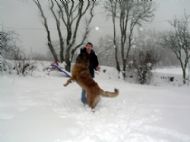 JOSH & SKY ENJOYING THE SNOW
MOLLY, LINDA & SKY
We believe in feeding our Leos a natural diet. For more information please check our Links & Relating To Health pages on the left hand side of our website.
Note: We do not endorse any adverts nor are we affiliated to any Leonberger breeder unless already on our Links page.
---